'Elusive' – Peter Higgs and the 50 year quest for the God particle
Saturday 11th March 2023 at 19:00
The Amey Theatre, Abingdon School

This event is being held as part of the ATOM Festival which runs from 11th – 14th March 2023.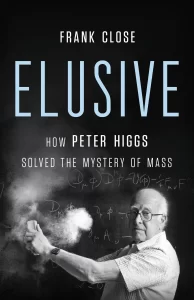 The ATOM Festival welcomes back Professor Frank Close OBE FRS to give the definitive account of the Higgs boson story. After 33 hours of phone conversations with Higgs during the pandemic, Professor Close wrote the award-winning science bestseller, Elusive, which was chosen as one of 2022's Science Books of the Year by The Times and Sunday Times, The Guardian, Economist, Nature and the Times Literary Supplement.
This is preceded by a fascinating introduction to the concept of Fame Lab and how this can be used to promote science education and science communication in our schools. Founder, Kathy Sykes, an Abingdon resident will give a short talk especially useful for anyone involved in science education in the Abingdon area.
More details about this talk and the speaker can be found on the ATOM Festival site here.
Speaker: Professor Frank Close OBE FRS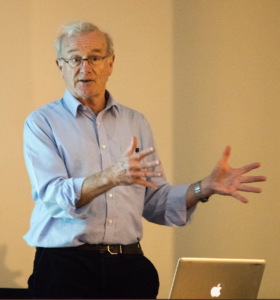 Professor Frank Close lives in Abingdon and is one of the founders of the ATOM Festival. He is Emeritus Professor of Physics at the University of Oxford and a former head of the theoretical physics division at Rutherford Appleton Laboratory. He is the author of several bestselling books including 'Half Life' (the true story of Harwell physicist Bruno Pontecorvo), 'Trinity: The treachery and Pursuit of the Most Dangerous Spy in History' about the life of Klaus Fuchs and "Elusive", the story of the Higgs boson which was selected as a science book of 2022 by The Times and Sunday Times, The Guardian, Economist, Nature and Times Literary Supplement.
He has won the Association of British Science Writers award three times, was vice president of the British Association for Advancement of Science and won the Royal Society Michael Faraday Prize for Science Communication. He is also an experienced eclipse-chaser who has seen over a dozen eclipses – and in 2016 wrote 'Eclipse' published by Oxford University Press.