Place and Time: Abingdon, Thursday 17 May 2018 from 19:00 for 19:30
New Location: King Charles Room, King's Head and Bell, (10 E St Helen St, Abingdon OX14 5EA)
TITLE: Biomedical Imaging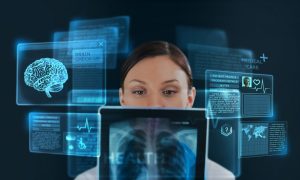 Biomedical imaging has become vital in modern day medicine and is used in the diagnosis of many diseases such as cancers and cardiac diseases. The lanthanides, also known as the rare earth metals, are used widely in biomedical imaging, for example in MRI (medical resonance imaging) to obtain images with greater contrast between different types of tissue. Whilst biomedical imaging techniques are well established in the hospitals, they all have limitations. This has led to research into new types of MRI and multi-modal imaging where multiple imaging techniques can be used at the same time.
Theranostic imaging is another area under development where a disease is diagnosed and then immediately treated rather than waiting for follow up appointments. This could have revolutionary impact, for example, using luminescence guided surgery for the identification and immediate removal of cancerous tissue. The unique properties of the lanthanides have the ability to aid us in these challenges. Research into biomedical imaging is essential for the future of diagnosis and treatment of disease for this generation and the many to come.
I am currently undertaking research in the lab of Stephen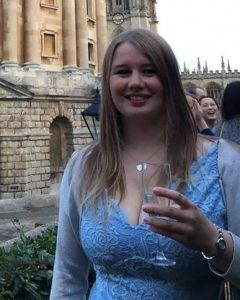 Faulkner in the Chemistry Research Laboratory at the University of Oxford. I am reading for a DPhil (PhD) in Biomedical Imaging and I obtained a First Class Honours Degree in Chemistry (MChem) in 2015 from the University of Oxford. I am the Organic Chemistry tutor to the first year Biochemistry Students and John Hopkins University visiting students for St. Anne's College. In the academic year of 2016-2017 I also taught Biophysical Chemistry to the Exeter College and St John's College first year Biochemistry students. I completed a Masters Research Project in the Veronique Gouverneur group using chemistry to be applied to PET Imaging as well as two 11 week projects working in the Eleanor Stride group on development of micro-bubbles for use in Ultrasound and in the Damien Tyler group using DNP MRI for the study of cerebral tumours.
Outside the world of academia I actively volunteer at St. Aldates church in central Oxford including being on the welcome team to welcome newcomers into church, working with vulnerable people once a month during the ACT community meal and I have been logistics manager of the St. Aldates Postgraduate Society. I am also a member of the Women's ministry team organising events to encourage and empower women in today's society. I also enjoy painting, playing board games and going for nice scenic walks with friends.