Place and Time: Abingdon, Thursday 20 June 2019 from 19:00 for 19:30
Due to a double booking, this event will not happen at the usual venue. Instead we will meet at Old Magistrates Courtroom (OMC) in the Guildhall.
TITLE: Slippery Secrets – The hidden science within the life-blood of your car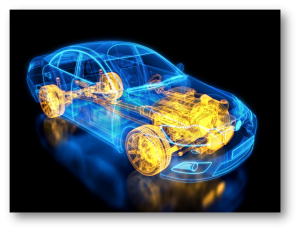 Each day we either directly or indirectly use automotive vehicles to go about our daily lives. The engineering of these machines is perhaps obvious. The chemistry that enables them to operate, specifically the fuels and lubricants, is perhaps less obvious to us. However, the fluids are critical to their operation and the specific focus on the reduced environmental impact of these vehicles. In this talk we will explore the role that engine oils play in the operation of vehicles, and the specific chemistries that are deployed to provide the highly specific performance required for modern automobiles. These will range from the use of polymers to control the fluidity of the oil, to how we use complex colloid systems to fight acids. Ultimately the industry drive is to minimise the exhaust emissions from vehicles, and we will explore the current and future challenges we face in terms of legislation, but also the technology to address them. This is a multifaceted challenge requiring a highly multi-disciplinary approach and the deployment of highly sophisticated scientific and engineering methodologies.
Speaker: Dr Ian A W Bell
Afton Chemical is one of four global companies that focus on the development of petroleum additives, delivering enhanced performance for fuels, lubricants and speciality fluids in the automotive sector.  Headquartered in Richmond, Virginia, Afton has R&D, Commercial and Manufacturing facilities in all continents.
Ian joined Afton Chemical, in 2008, has held several R&D Leadership roles in Afton and is now Senior R&D Director for Engine Oils.  This is a global role responsible for all formulation research, additive, polymer and product development in the business.  Ian is also responsible for all long-term chemical and physical science research for the corporation.
Prior to Afton, Ian has had over 2 decades of experience in the lubricant industry, having worked for Exxon Chemical, Infineum and BP, leading commercial development of lubricant additives, several formulation, customer and OEM-facing roles and specific roles on strategy and planning.
He is a native of northern Scotland, gaining Honours degree and PhD in Chemistry from the University of Edinburgh, and gained his MBA at Oxford Brookes University in 2004. During this time Ian was also accepted as a Fellow of the Royal Society of Chemistry, is a Charted Chemist and is active in the RSC management boards.