Place and Time: Abingdon, Thursday 21 Sep 2017 from 19:00 for 19:30
Barn Room, Crown and Thistle (18 Bridge St, Abingdon OX14 3HS)
TITLE: Are you afraid of the dark? The Interplay of Galaxies and Dark Matter
Galaxies are huge clusters of hundreds of billions of stars – the Milky Way is our galaxy, itself just one of many billions more. But even these are diminutive compared with the sea in which they swim, dark matter, an unknown substance we cannot see with our telescopes because it doesn't give off light.
Nonetheless, astronomers have developed several techniques to indirectly study dark matter. In this talk I will describe how powerful telescopes in Hawaii, Chile and South Africa help us look back in time over the history of the Universe to see how the creation and development of galaxies is linked to dark matter, hopefully helping us learn more about the galaxies we see today and potentially even something about the mysterious nature of dark matter itself.
I will discuss the current research being done in Oxford using the VISTA telescope in Chile, as well as what the future holds for cosmology and galaxy evolution, in particular the Square Kilometre Array, a radio telescope being built in South Africa, and the planned Euclid space telescope – each of which will observe billions of galaxies from the current day back to the beginning of time.
Speaker: Peter Hatfield
Peter is a postdoctoral researcher in the Physics Department at the University of Oxford working on problems in high energy density physic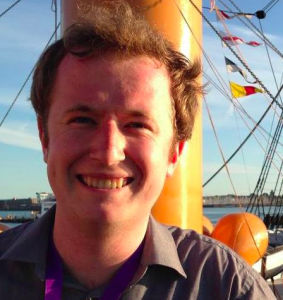 s and astrophysics, working with Professor Steven Rose.
He completed his D.Phil. at Lincoln College, University of Oxford earlier this year working with Professor Matt Jarvis. Before this he completed a BA in Mathematics and a MSci in Astrophysics at Pembroke College, University of Cambridge. He has also spent time working on research projects in California and South Africa.
He is also Chair of the Student Advisory Board for the Institute for Research in Schools, a new UK-wide charitable foundation that supports secondary school students doing real scientific research.