Place and Time: Abingdon, Thursday 21 November 2019 from 19:00 for 19:30
King Charles Room, King's Head and Bell, (10 E St Helen St, Abingdon OX14 5EA)
The evening will start with a short AGM followed by a talk.
AGM Agenda
Apologies for absence
Minutes of last meeting
Matters arising
Chairman's Report
Treasurer's Report
Elections

 Officers

Chair
Secretary
Treasurer

Ordinary Members

Atom Festival
Christmas Party
Ideas for 2020
Any Other Business
Talk TITLE: Sustainable Farming
Never has the debate surrounding the causes and effects of Climate Change been more intense, with powerful interests and lobby's controlling the narrative. The world's Farmers and their Cows are a soft target often blamed for a significant contributions to man-made climate change. The speaker would like to present an alternative model of livestock production: " Speaking on behalf of the Cow". Maybe the problem are the choices forced on farmers and cows by external powers? Maybe we as a consumer could be the answer?
Speaker: Neil Rowe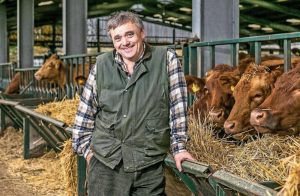 Neil has 40 years' experience managing high performance beef and dairy farms, working with both conventional and organic systems. In 2004 was awarded a Nuffield scholarship to study 'Voluntary milking systems and automated milk harvesting'. He has a reputation for innovation, sustainable farming and knowledge transfer, being a regular speaker at conferences and farmer meetings. For the last ten years alongside farm management Neil has been providing Agricultural consultancy to farmers and industry. In the last 5 years he has been a finalist or winner in 3 national awards and for 25 years he has been an Ambassador for the charity "Send a Cow".