Place and Time:
Abingdon, Thursday 20 Feburary 2020 from 19:00 for 19:30
King Charles Room, King's Head and Bell, (10 E St Helen St, Abingdon OX14 5EA)

TITLE: Ultra-low temperatures – pushing the boundaries of engineering
The coldest nat
ural place in our universe is in the centre of the Boomerang nebula, at 1 Kelvin (-272.15 °C). It is relatively unknown that here on earth, scientific research is routinely done at temperatures 2 orders of magnitude colder than this! At Oxford Instruments we create a low temperature environment for industries and universities to push the boundaries of science and enable quantum technologies, nano technology research and materials characterisation at 10 mK and below, at the push of a button.
In this talk I will discuss how ultra-low temperatures can be achieved, how we conduct research in these extreme environments, the applications and reasons behind going so cold and most importantly (to someone who spent 4 years of their PhD measuring temperature), how we measure the temperature of such an environment
Speaker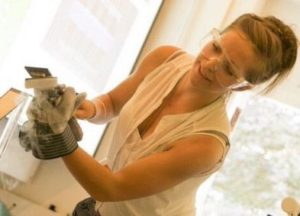 Harriet van der Vliet is a quantum engineer at Oxford Instruments Nanoscience and worked in Tubney Woods for the last two and a half years. She work in the NPI (new product introduction) team  to develop the next generation of low temperature systems predominantly for use by researchers and industries working in quantum technologies and fundamental science. Currently, she is developing a cryogenic link to connect two cryostats as part of the European Quantum Flagship project, QMiCS – Quantum Microwave Communication and Sensing. This will be used at the Walter Meissner Institute for research towards quantum microwave communications.
During her first year at Oxford Instruments, she was chosen to go on secondment to the United States to work at another Oxford Instruments business, Asylum Research in Santa Barbara, to develop my management and commercial skills and experience working in a different culture.
Prior to working at Oxford instruments, she completed a PhD at Royal Holloway, University of London in the London Low Temperature Laboratory, working with the coldest electrons in the world and measuring their temperature directly! She not only had the coldest electrons in the world, but also (unofficially) one of the longest PhD thesis titles – Platforms for new quantum technologies – Addressing the challenges in cooling and exploring the properties of strongly correlated electron systems, using current sensing noise thermometry. Seh also held some post graduate research positions at Royal Holloway as part of the European Microkelvin Platform and InK – Implementing the New Kelvin.