Time and Date:
Abingdon, Thursday 19 August, 2021 from 19:00 for 19:30
Abingdon United Football Club (Northcourt Rd, OX14 1PL, Abingdon)
This event will be delivered in person again. Anyone who was an active member of the society prior to the pandemic halting our in person talks, or who have joined this year, will have their membership honoured until January next year (2022). This means that for any members, this event is free! For guests, our original costs will be reinstated at £3 per person, free for under 18s. No booking required. See home page for COVID restrictions.
Title: Scarves, Symmetry, and Solving Equations

Through knitting, I've been exploring the symmetry patterns in scarves. How many different types of scarf pattern are there? And what does this have to do with (not) finding a formula to solve certain types of polynomial equation?Scarv
Speaker: Vicky Neale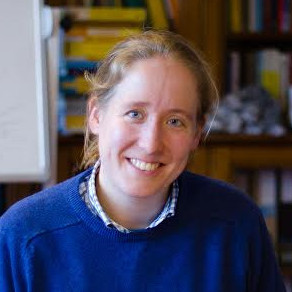 Nicky Neale did her PhD in Cambridge about analytic number theory and additive combinatorics. She is now the Whitehead Lecturer at the Mathematical Institute and Balliol College at the University of Oxford. Part of her role is to be enthusiastic about mathematics with undergraduates, school students, and the wider public and she has a page about these activities. She has appeared on several BBC Radio 4 and TV programmes. Vicky enjoys mathematical craft of various types and has written two books, Why Study Mathematics? and Closing the Gap: the quest to understand prime numbers.