Place and Time: Abingdon, September 24, 2015 at 19:30
Kings Charles Room of the "Kings Head and Bell" (10 East St Helen St, Abingdon, OX14 5EA)
TITLE: How to have a social life
The evolution of social behaviour has been fundamental to the natural world and is found at varying degrees throughout the animal kingdom.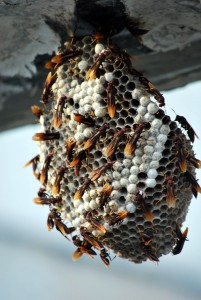 The most extreme forms of social behaviour however are found in the social insects (bees, wasps and ants). These insects are characterised by a division of labour whereby individuals give up their own reproduction to help the reproduction of another in apparent acts of altruism. But how do such extreme form of social behaviour evolve and how are they maintained? In this presentation I will address what lessons we can learn about social evolution, and indeed how to have a social life all from the perspective of a wasp.
Speaker: Emily Bell, University of Bristol
Emily Bell is a final year PhD candidate at the University of Bristol and Institute of Zoology. After leaving Our Lady's Convent School (now Our Lady's Abingdon) she went on the study for a degree in Zoology at University College London followed by a Masters in Biology at the University of Oxford. Her current area of biological research is behavioural ecology in which she is interested in understanding the evolution of social behaviour, focusing in particular on social behaviour in tropical paper wasps. Her work has taken her both to Spain and Central America where she worked as a Pre-doctoral Fellow with the Smithsonian Tropical Research Institute in Panama.